Mi Honar Superstar 2022 Auditions & Online Registration Date: Star Pravaha is bringing a new singing television reality show on-screen from January 2022. This new TV show 'Mi Honar Superstar' will be on screen in a few weeks. Here through this post Mi Honar Superstar 2022 Auditions & Registration related more details.
Mi Honar Superstar 2022 Audition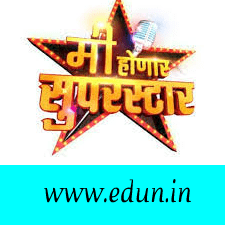 The singing reality television show is going to be one of the biggest singing television reality show in Maharashtra. The registration for this show has already started.
Mi Honar Superstar Auditions Eligibility Criteria
The registrations of Mi Honar Superstar will be open for the talented singing contestants.

They must be above 21 years old.

To contestants in the Mi Honar superstar, they will need to send your audition video to startv.com.

Now check out the step by step details below.

Candidate must check out complete details about to Star Pravah Mi Honar Superstar.

And find out how you can do registration for the auditions of the upcoming singing television reality show.
Steps Mi Honar Superstar Auditions 2022 and Registration
For registration of the Star Pravah Mi Honar Superstar, interested candidates can visit the official website of channel or pravah.startv.com.

you can also click on REGISTER Button.

The registration form will be available on the homepage of the website.

In the first step you will need to write your phone number and you will get a one-time password.

After that start filling basic details like your name, date of birth, age, gender, address.

Don't forget to mention your accessible mobile number and email ID.

You will also need to mention occupation, designation, and educational qualification.

In the last step, you will need to mention the languages you can speak.

Interested candidates will also have to write their favorite singer, what kind of music they like.

While they will also have to mention that if they learn music.
Important Points:
If you took classes in music, then you will need to write the name of your Guru.

When did you leave singing, what made you leave singing, who would be the happiest to see you become a singer again?

Also write your talent, hobbies, interest.

While you can also tell them about your Complex. And in the last step, you lead to upload the audition video of yours.

The maximum size of the video should be 50 MB.

They will call you for the next process. If your applications get selected by the official team of the show.

Stay with us to get more details related to the ground audition of the Mi Honar Superstar.

And Stick around here to get auditions details of the big television reality shows.